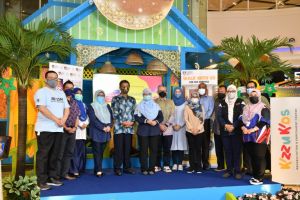 SHAH ALAM, 2 APRIL – In conjunction with World Autism Awareness Day, the National Autism Resource Centre (NARC) from Universiti Teknologi MARA (UiTM) Faculty of Computer and Mathematical Sciences (FSKM), today launched the Resource Centre at AEON Mall Shah Alam. The ceremony was officiated by UiTM Deputy Vice-Chancellor (Research and Innovation), Prof. Dr Norazah Abd Rahman. The ceremony also celebrated the unveiling of two digital products to empower the autistic community: myTerapi and AutisMall. MyTerapi provides features that allow users to search for therapy services while AustisMall is a mobile application/e-system that offers a platform for autistics or their parents and guardians to showcase their products to the community. Both systems are also available for public use.
Prof. Dr Norazah said NARC developed inclusive steps to generate awareness and empathy among the community to better understand autism, especially autistic children together with their parents and caregivers. This was facilitated by a series of webinars held since 2020. Additionally, comprehensive information on basic needs such as early education, early detection of autism as well as a list of health centres providing early autism screening facilities and local intervention centres are made available on the NARC website www.narc.uitm.edu.my.
She further added that NARC has partnered the National Autism Society of Malaysia (NASOM) to successfully develop an IoT-based mushroom farming house at NASOM's Bandar Puteri Vocational Training Centre. The initiative empowers hostel residents to generate income and instill a sense of confidence and independence. NARC also successfully collaborated with US-based ABA Technologies, Kizzu Holdings Sdn Bhd and Universiti Komputer Indonesia (UNIKOM) to secure a grant of almost RM1 million from the Ministry of Science, Technology and Innovation (MOSTI). This project is set to benefit teachers at NASOM and parents of children with autism in Malaysia.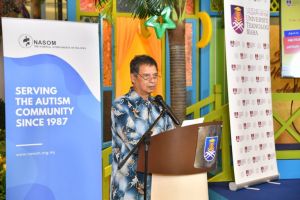 Datuk Megat Ahmad Shahrani Megat Sharuddin, President of NASOM, expressed his appreciation for UiTM's noble efforts in assisting NASOM to raise awareness and facilitate acceptance of autistic individuals among the community. As a non-governmental organisation, NASOM believes in the importance of collaborative networking with stakeholders involved in providing an autistic-friendly environment as well as provide a place for all parties to obtain information on autism.
The ceremony was also attended by Prof. Dr Mohamad Hariri Abdullah, UiTM Deputy ViceChancellor (Industry, Community and Alumni Network); Prof. Ts Dr Haryani Haron, Dean of the Faculty of Computer and Mathematical Sciences; Pn Hajah Salmah Jopri, Director of Special Education Division; Dr Salimah Hj Othman, Principal Assistant Director, Family Health Development Division, Ministry of Health Malaysia; and Pn Siti Fatimah Ismail, Senior Principal Assistant Director of the Department of Development for the Disabled (JPOKU) from the Social Welfare Department. Also in attendance were Mr Ahmad Khairuddin Albakri, Environment, Health and Safety Manager (Asia Pasific), representing Mr Paul Fong, Country Director for The Dow Chemical Company; Mr Shafie Shamsudin, Chief Executive Officer of AEON Group Malaysia; and Pn Nori Abdullah, co-Founder of "We Rock the Spectrum Gym".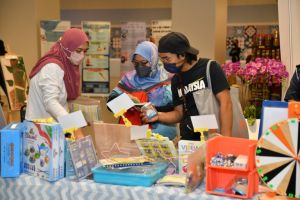 The event organised by NARC FSKM UiTM in collaboration with the Faculty of Health Sciences UiTM Shah Alam, NASOM Malaysia and Kizzu Kids Shah Alam is part of the 3-Day NARC Launch Programme beginning 31st March 2022. The 3-day programme providesvarious activities such as autism awareness exhibitions and screening sessions by professional therapists and psychologists from NASOM, Kizzu Holdings and the Faculty of Health Sciences enabling early detection of autism among children. Also available are sensory play activities facilitated by NASOM and Kizzu Holdings in providing exposure to families on activities that can be done at home for children with autism.