Chairman's Message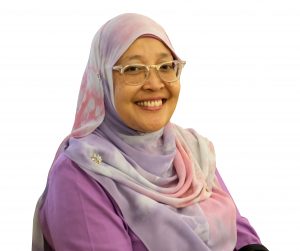 PROFESOR DR. NURSURIATI JAMIL (SMIEEE, FPECAMP)
Chairman
National Autism Resource Centre (NARC)
Faculty of Computer and Mathematical Sciences
Universiti Teknologi MARA (UiTM)
Welcome to National Autism Resource Centre (NARC).
In conjunction with World Autism Awareness Day 2019, 2 April 2019 marks the establishment of NARC. The organization of NARC resulted from a successful partnership between Universiti Teknologi MARA and the National Autism Society of Malaysia (NASOM).
NARC hopes to perpetuate its recognition as an organization that functions as a one-stop knowledge repository and reference resources for research, services, training and curriculum development, consultancy and projects related to Person with Autism (PWA) in Malaysia.
Adopting a Whole-of-Society approach, NARC always welcomes individuals, families and communities, non-governmental organizations, academia, the media, intergovernmental organizations and religious institutions, the private sector and industry, as the source and beneficiary of our information and activities.
"It is time for us to move from the awareness to the acceptance phase to ensure the PWA a place in our society. Let's make it happen together". – Feilina Feisol, Chairman of NASOM
The quote is equivalent with the main pillar of this organization, as more Malaysians are exposed to the awareness of PWA, We hope that PWA community are accepted as a part of community in Malaysia, with equal access and rights in education, occupation and many more.
As we serve our visitors with upgraded contents and useful current information pertaining to PWA, we inspire all visitors to explore the website to grow a better understanding about NARC, gain valuable insights on autism and anything related to it. As we try our best to include relevant content and information into the website, we also accept any information that you may want to share for the benefit of all parties.
Lastly, my expression of gratitude is to everyone for their relentless support towards the betterment of NARC and hopefully our website will be able to address some of your queries and doubts.
"It takes a village to raise a child. It takes a child with autism to raise the consciousness of the village" – Coach Elaine Hall