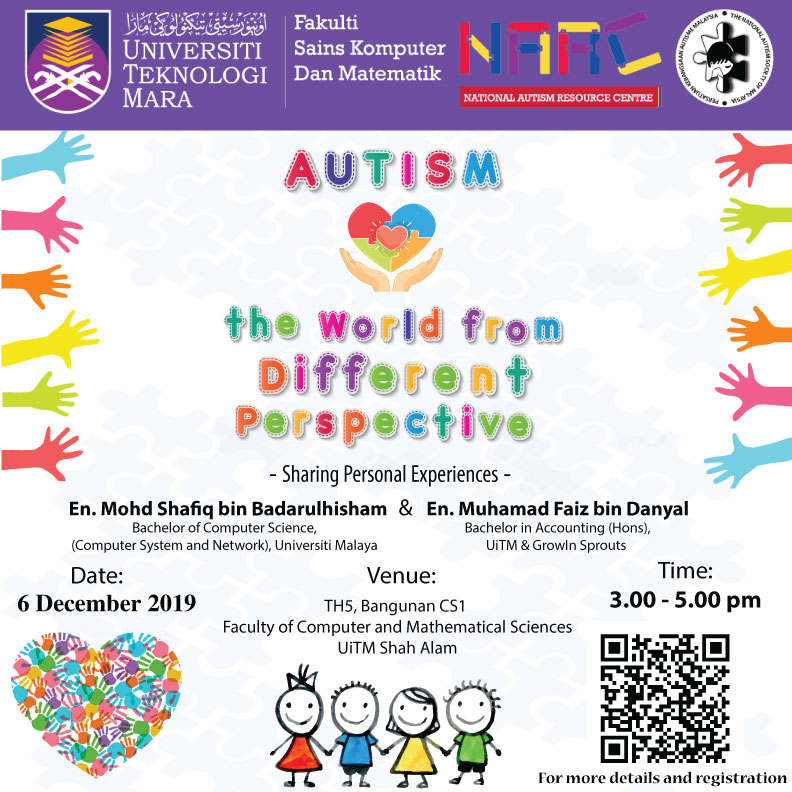 Salam & Selamat Sejahtera,The National Autism Resource Centre (NARC), Faculty of Computer and Mathematical Sciences, UiTM Shah Alam and the National Society of Malaysia (NASOM) is organizing an event "Sharing Session with Person with Autism (PWA)".
Details are as follows:
Date: 6 December 2019
Venue: TH5, Bangunan CS1, Faculty of Computer & Mathematical Sciences, UiTM Shah Alam
Time: 3.00 pm – 5.30pm
Tentative Program:
3.00 pm : Registration and Mingling Session
3.30 pm — 4.15 pm : Sharing session by Mr Mohd Syafiq Badrul Hisham, University Malaya Undergraduate
4.15 pm – 5.00 pm : Sharing session by Mr Muhammad Faiz Danyal. GrowIn Sprouts
5.00 pm – 5.30 pm : Parents/Caretakers Support Group, UiTM
5.30 pm : Tea
We cordially invite everybody to this sharing session to listen, share and understand each other better.
Registration for the Sharing Session can be done at this link:
https://docs.google.com/forms/d/e/1FAIpQLSco7Wuwxj-zbFEz8IWsGxLirFBWPMhpOetvcmMD3Jalj0eN4w/viewform
For further enquiries, please contact Mr Mohd Nazrul Mohd Amin at 011-1237 6754.
Please spread the word by sharing our event with friends and family on Facebook and ask them for their support, at your workplace via email or a chat during lunch time, with sporting clubs or community groups that your family are involved with; with your neighbours during a chat or a note in their letterbox. Thank you.